L'opposition alsacienne à la réforme régionale. Quels enjeux géopolitiques ?
Since its announcement in the spring of 2014, the project of suppressing the Alsace administrative region, in order to create a new big region Alsace-Champagne-Ardenne-Lorraine (ACAL), has locally caused a very strong opposition, with a significant popular mobilization and an nearly unanimous protest from local elected officials, from any political party. Thanks to an analysis in terms of local geopolitics, we examine how local power issues can explain the different opposition strategies against the creation of ACAL. Thus, the idea of an Alsatian identity has been clearly used, in particular by the local right-wing politicians who strongly dominate the region, even if it means playing a dangerous game with the autonomist movement and be subject to criticism by the left-wing party. Then, we can understand how this "representation", far from being an absolute reality, is subject to various interpretations.
Dès son annonce au printemps 2014, le projet de supprimer la région administrative d'Alsace, pour créer une nouvelle grande région Alsace-Champagne-Ardenne-Lorraine (ACAL), a suscité localement une très vive opposition, marquée par une importante mobilisation citoyenne et par une contestation unanime de la part des élus locaux, tous partis politiques confondus, ainsi que de la part des milieux économiques. Grâce à une analyse de géopolitique locale, on met en évidence les enjeux locaux de pouvoir qui permettent d'expliquer les stratégies différentes d'opposition à la création de l'ACAL, selon les acteurs. Ainsi, la notion d'identité alsacienne a-t-elle été largement mobilisée, notamment par la droite locale qui domine solidement la région, au prix d'un jeu dangereux avec le courant autonomiste et des critiques de la gauche. On comprend alors comment cette représentation, loin d'être une réalité intangible et absolue, est l'objet d'interprétations différentes.
Fichier principal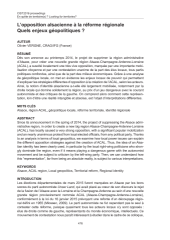 cist2016_opposition_alsacienne_a_reforme_territoriale_enjeux_geopolitiques.pdf (169.75 Ko)
Télécharger le fichier
Origin : Files produced by the author(s)