Catherine Opie's three self-portraits : "Let's push the boundaries a little here about what you guys think normal is"
Catherine Opie's self-portraits, in a kind of photographicautobiography, narrateher life-long challenge of the boundariesestablished by the conventional American society and itsattempt to ostracizethe queercommunity. Her fight against the limits, taboos and representational norms of the American society allows us to better understand this society and its evolutions. Opie often uses her own body in self-portraits that are also performance art, in which the integrity of the skin is jeopardized, in which real human blood and milk flow. Her purpose isto emphasize the key moments of her life as a homosexual woman, at first rejected by a conformist and homophobic society, and finally finding her place in society, thanks in part to her maternity, but mainly through art, which allows the assimilation/sublimation of the insults previously aimed at her difference, her so-called perversity. Opie's work is much more than subversive: it does notonlytry to undermine or destroy the established facts of representation, but attempts to redefine them, to make them closer to universality, hence contributing to the evolution of the mores of the American society.
Les autoportraits de Catherine Opie forment une série qui peut être interprétée comme une autobiographie photographique, faisant la narration d'années passées à défier les limites d'une société normative qui cherche à exclure de son sein les communautés queer. Son combat contre les limites, les tabous et les normes de représentations de la société américaine nous permet de mieux connaître et comprendre cette société et ses évolutions. Opie n'hésite pas à mettre en scène son propre corps dans des autoportraits qui relèvent aussi de la performance, où la peau est malmenée, où le sang et le lait humains coulent littéralement, pour mettre en lumière son cheminement de femme homosexuelle, d'abord rejetée par une société conformiste et homophobe, puis trouvant finalement sa place grâce à la maternité mais surtout grâce à l'art, en ce qu'il permet l'assimilation/sublimation des insultes préalablement réservées à sa différence, à sa soi-disant perversité. Le travail d'Opie est donc à la fois un travail subversif et constructif : subversif, car il remet en cause un état de choses établi en matière de représentation, et constructif car, plus que de le détruire, il le complexifie, lui fait tendre à une plus grande universalité et par là participe à un travail d'évolution des moeurs de la société américaine.
Fichier principal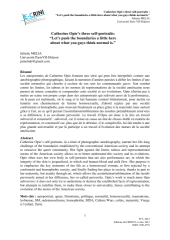 Juliette Melia(1).pdf (584.66 Ko)
Télécharger le fichier
Origin : Publisher files allowed on an open archive