Hippo-Opto : cirque expérimental et téléprésence vers une forme de communication interespèces
In this essay, we will cross-reference a few examples of experimental artistic practices in which animal and machine are interconnected, to see how these devices contribute to the exploration of the living. It will then present a current research project entitled Hippo-Opto, which uses telepresence to access a subjective perception of the present, and considers networking not as a substitute, but as a form of interspecies communication.
Dans le cadre de cet essai, en croisant quelques exemples de pratiques artistiques expérimentales où l'animal et la machine sont interconnectés, il s'agira de voir comment ces dispositifs contribuent à l'exploration du vivant. Puis de présenter une recherche en cours intitulée Hippo-Opto qui consiste, à travers la téléprésence, d'accéder à une perception subjective du présent et d'envisager la mise en réseau non pas comme substitut, mais comme une forme de communication interespèces.
Fichier principal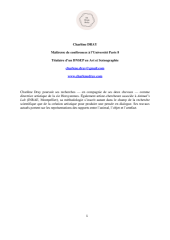 Charlene-DRAY-Hippo-Opto-cirque-experimental-et-telepresence-vers-une-forme-de-communication-interespeces.pdf (1.01 Mo)
Télécharger le fichier
Origin : Files produced by the author(s)
Licence : Copyright