Sexual initiation of Tlahuicas children in Nueva España
La iniciación sexual de los niños tlahuicas en Nueva España
L'initiation sexuelle des enfants Tlahuicas dans la Nueva España
As the goddess of love, Xochiquétzal was the patron saint of young warriors' wives. We are in the Tlahuicas at the beginning of the 16th century (valid probably since the 11th century), and whose territory corresponds to the current state of Morelos in Mexico. The traces that remain to us are those of two Codex, written in the words of the Spanish conquerors with a strong emphasis on Catholic morality. Xochiquétzal, for example, is described as a devil. Both Codex relate in similar words the same traditions, with the context of the cult dedicated to the main goddess of the Tlahuicas and the religious if not mystical elevation through intoxication, drinking the traditional nectar of Mexico, the Pulque. One of the feasts in the service of Xochiquétzal, during the thirteenth month (Tepeilhuitl) of the Aztec calendar, is called the Pilauana or Pilaguana, which means: la borrachera de los niños, the drunkenness of children. It is a celebration of sexual promiscuity, but also of the unity of a people who, through the intoxication of dance, religion, the pulpit and sexual practice, find themselves feasting beyond (age) barriers and warlike conflicts.
Una tradición de borrachos. Como diosa del amor, Xochiquétzal era la patrona de las esposas de los jóvenes guerreros. Estamos en los Tlahuicas a principios del siglo XVI (válido probablemente desde el siglo XI), y cuyo territorio corresponde al actual estado de Morelos en México. Los rastros que nos quedan son los de dos Códices, escritos en las palabras de los conquistadores españoles con un fuerte énfasis en la moral católica. Xochiquétzal, por ejemplo, se describe como un diablo. Ambos Códices relatan con palabras similares las mismas tradiciones, con el contexto del culto dedicado a la diosa principal de los tlahuicas y la elevación religiosa, si no mística, a través de la intoxicación, bebiendo el néctar tradicional de México, el Pulque. Una de las fiestas al servicio de Xochiquétzal, durante el decimotercer mes (Tepeilhuitl) del calendario azteca, se llama la Pilauana o Pilaguana, que significa: la borrachera de los niños, la ebriedad de los niños. Es una celebración de la promiscuidad sexual, pero también de la unidad de un pueblo que, a través de la embriaguez de la danza, la religión, el púlpito y la práctica sexual, se encuentra festejando más allá de las barreras (de la edad) y los conflictos bélicos.
Voici une tradition d'ivrogne. En tant que déesse de l'Amour, Xochiquétzal était la patronne des femmes des jeunes guerriers. Nous sommes chez les Tlahuicas au début XVIème siècle (valable sans doute depuis le onzième siècle), et dont le territoire correspond à l'état actuel de Morelos au Mexique. Les traces qui nous restent sont celles de deux Codex, écrits dans les mots des conquérants espagnols avec un accent marqué pour la morale catholique. Xochiquétzal par exemple est qualifiée de diable. Les deux Codex relatent dans des mots similaires les mêmes traditions, avec pour contexte le culte voué à la déesse principale des Tlahuicas et l'élévation religieuse sinon mystique par l'enivrement, en buvant le nectar traditionnel du Mexique, le Pulque. L'une des fêtes au service de Xochiquétzal, au cours du treizième mois (Tepeilhuitl) du calendrier Aztèque, s'appelle la Pilauana ou Pilaguana, qui veut dire : la borrachera de los niños, l'ivresse (l'enivrement) des enfants. Fête de la promiscuité sexuelle mais aussi unité d'un peuple qui, par l'ivresse de la danse, celle de la religion, celle du pulque et de la pratique sexuelle, se retrouve festoiement au-delà les barrières (d'âge) et des conflits guerriers.
Fichier principal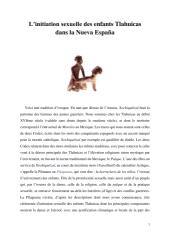 Pilaguana Tlahuicas.pdf (450.7 Ko)
Télécharger le fichier
Origin : Files produced by the author(s)