Penser le passage et la transgression à partir des marges sociales avec Deleuze et Guattari
Gilles Deleuze and Félix Guattari's philosophy gives us the means to think about the notions of passage and transgression from the notion of social margin. Social margins are indeed transit places as many fluxes circulate there, allowing these margins to be – under certain circumstances – creative spaces. New ways of life emerge in social margins that should spread around society and help reshape it. How can we understand the fact that Deleuze and Guattari criticize the notion of transgression even though the etymology of this word implies that it is as well a kind of passage?
La philosophie de Gilles Deleuze et de Félix Guattari permet de montrer comment on peut penser les notions de passage et de transgression à partir de celle de marge sociale. Les marges sociales constituent en effet des lieux de passage au sens où y circulent un certain nombre de flux, faisant en cela des margessous certaines conditionsdes espaces de créativité. Ce qui est ainsi inventé dans les marges c'est un passage neuf, qui n'existait pas auparavant et qui doit reconfigurer l'ensemble de la société. Comment comprendre alors que Deleuze et Guattari critiquent la transgression alors même qu'étymologiquement elle désigne elle aussi un passage ou une traversée ?
Fichier principal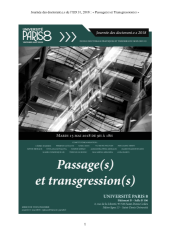 JPH.Chemineau.pdf (634.43 Ko)
Télécharger le fichier
Origin : Files produced by the author(s)