Corporeality as "antibody", or the aesthetic subversion of "body" as a traditional category
De la corporéité comme "anticorps", ou la subversion esthétique de la catégorie traditionnelle de "corps"
In short, as we see, the traditional model of "body" is not exempt of heavily loaded presuppositions. Heir of a metaphysical-theological tradition that made it the basis for an organized ontological vision of the world, it became imbued and invaded by the scientific-technical project of a triumphant capitalism. Daily experience finds itself foremost in-formed and normalized by the social imaginary and discourse fostered and promoted by this model. As I tried to show in my book ironically entitled Le Corps [The Body], we live our relationship to ourselves, the other and the world exclusively through our collective, individual, cultural and instinctual history. Through its implications, complexity, contingency and transience, the category "body" governs the most banal elements of quotidian life. However, it seems that the advent of contemporary art, and more specifically, the ways in which it completely unsettled how we understand the creative process, contributed in deconstructing this model, questioning its hegemony. Inspired, stimulated and encouraged by the vision and thinking of artists such as Cézanne, Artaud, Klee, Kandinsky, Bacon or Cage, numerous different - divergent - thinkers such as Merleau-Ponty, Ehrenzweig or Deleuze, reveal that the creative act is not born from the inherent power of the "body" as a permanent and significant organic structure. It is quite the contrary: such acts result from the work of a mobile and unstable material and energetic network, from impulses and interferences of disparate and overlapping intensities.
Fichier principal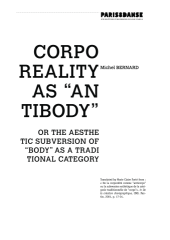 Bernard_2001_Corporeality.pdf (181.8 Ko)
Télécharger le fichier
Origin : Explicit agreement for this submission